Welcome to PranaShanti Yoga Centre
Monday, November 19, 2012
Lymphatic Massage Training
Saturday, November 24th
9:30 am - 4:30 pm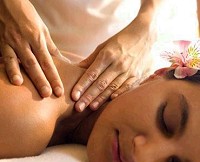 Lymphatic Massage is designed to promote the flow of Lymph, the clear fluid that supports immune function by flowing through the body and removing all waste and toxins, including viruses. It reduces swelling and clears the Lymphatic System. This type of massage also stimulates the flow of interstitial fluid encouraging fluid to pull out toxins to be transported to the Lymph System.
Lymphatic massage is recommended before surgery to ensure the Lymphatic System is clear. It can also be used to reduce swelling after surgery.
Lymphatic Massage is gentle and calming on the Central Nervous System, creating a sense of well-being. An excellent antidote to stress!
During this wonderful full-day workshop Jan will walk you through the dynamics of the Lymphatic System by discussing basic Anatomy and Physiology. You will experience and learn how to give a basic Lymphatic Massage - Front and Back.
Who is this Training for?
Students with no prior backround in any style of massage.
Advanced Practitioners or body workers looking to complement their existing professions.
Caregivers who wish to offer a soothing and healing massage to those loved ones with chronic illness.
Couples looking to offer massage to each other in the comfort of their own home.
Cost:
$175.00 per person.
Lunch break is from 1:00 pm to 1:30 pm. A light lunch brought from home is recommended.
Posted by

PranaShanti Yoga Centre
at 10:37 AM