Welcome to PranaShanti Yoga Centre
Monday, November 12, 2012
Tai Chi - 4 Week Series
Wednesday, November 14th
7:00 pm - 8:30 pm
Immerse yourself in this ancient oriental practice.
Tai-Chi, as it is practiced in the west today, can best be thought of as a moving form of yoga and meditation combined. The objective of Tai-Chi is to purify one's vital energy (chi) and at the same time to open oneself to a spiritual dimension. The "chi" is a vital energy that is in us, around us, and is the origin of the universe.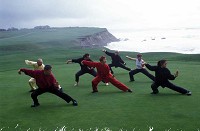 Yang style Tai-Chi consists of a series of 108 movements always executed in the same sequence to calm the mind, allowing a sense of peace to be instilled as well as to stimulate a harmonious circulation of this chi, this energy, throughout the body. The 108 movements of Yang style Tai-Chi are conceived to clear the body's meridians. This stimulates the circulation of the vital energy in the body to nourish and stimulate the body's organs. Tai-Chi is relaxation in continual movements.
Tai-Chi is usually represented by the Yin-Yang symbol. Yang is the active element, and Yin the passive. For the Chinese, the balance of the world rests in harmonising these two polarities.
Dates
:
Sundays - 2:00 PM to 3:30 PM - November 18 to December 9, 2012; and
Wednesdays - 7:00 PM to 8:30 PM - November 14 to December 4, 2012.
Cost:
4-week series is $60.00 per person. Purchase 4 classes for $60.00 per person or 8 classes for $105.00 per person (one class for FREE!). Attend Wednesdays and/or Sundays. Drop-Ins are welcome for $20.00 per person.
Posted by

PranaShanti Yoga Centre
at 9:47 AM