Welcome to PranaShanti Yoga Centre
Tuesday, November 13, 2012
Yoga Therapy for Your Brain
Sunday, November 18th,
2012
11:30 am - 3:30 pm
Relief from Stress, Depression and Anxiety
If you have been struggling with mood changes, SAD, depression, anxiety, PTSD, there may be another way. Lately, scientists have begun to discover what yogis have known for centuries; that yoga is good for the brain.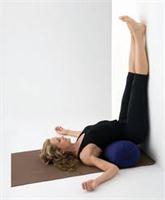 This workshop is specifically designed to relieve the suffering caused by depression and anxiety. It is not about "doing" the perfect posture, but rather "undoing" all of the places in the body where sadness, loss, and worry have been stored.
During the workshop we will explore:
accessible postures (with options and modifications) designed to uplift the "weight" of depression, and release the "charge" of anxiety;
breathing practices that are energizing for a depressed state or calming for restless minds cause by anxiety; and
techniques to assist in decreasing insomnia, or interrupted sleep patterns.
Cost: $75.00 per person.
About JoAnn: Jo-Ann is a dedicated, compassionate, and conscientious Yoga Teacher, Yoga Therapist and Holistic Health Coach certified and registered with the IAYT (International Association for Yoga Therapist). She has spent more than 25 years as a leader in the wellness and lifestyle sectors and is presently completing her 1000-hour Yoga Therapist Certification with the Nosara Yoga Institute of Costa Rica and most recently completed her LifeForce Yoga® Practitioner Training for Depression and Anxiety.
Posted by

PranaShanti Yoga Centre
at 9:28 PM