Welcome to PranaShanti Yoga Centre
Sunday, December 02, 2012
12.12.12 ~ Gateway Meditation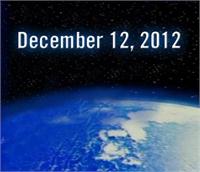 Numerology is a universal language. One can have loads of fun delving into this language and in sensing the vibrations that go with it.

December 12th, 2012! A significant date? 12 is a number of universal import, and you see its repeating patterns in your culture; 12 hours of the day, 12 months of the year, 12 in a dozen, 12 zodiac signs, 12 apostles, and 12 days of Christmas, for example. These relationships are not a coincidence, nor are they about convenience.

In numerology 12.12.2012 = 11. 11 has a spiritual significance as to transcendence, and the doubled power of one, and its ability as an initiator and propulsion unit for the start of new growth.

The 12.12.12 is also considered the gateway to what will transpire on 12.21.12. Thus, the gateway that you align with on the first date will determine what world you see when the gate opens on the following date. Are we saying it is important what you are doing and being on these dates? Yes, and particularly where you are and what you are focused upon on 12.12.12 will be significant.

Join us on 12.12.12 for a meditation to burn away the old ways and create space for the new. We will practice a powerful clearing Kundalini Yoga Meditation that allows your Soul and heart to open and awaken to your highest state of being with compassion and deep joy. After the meditation relax and release your body and mind into a sound journey with the soothing vibrations of 4 Symphonic Gongs and crystal singing bowls.

Cost: Drop-in Fee or PranaShanti Class Card. Everyone welcome! No previous yoga or meditation experience needed. Refreshements served after class.
Posted by

PranaShanti Yoga Centre
at 9:31 PM