Welcome to PranaShanti Yoga Centre
Friday, January 18, 2013
Meditation (Integral Satsang) - 10 Week Series
with

Lynne Cardinal

& Jurgen Portz
Begins Tuesday, January 22nd
7:30 pm - 9:00 pm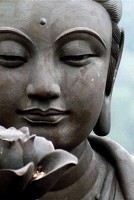 A series of 10 classes on Tuesdays from 7:30 PM to 9:00 PM - January 22nd to March 26th.
Suitable to both beginners and experienced meditators.
Integral Satsang is a multi-faceted approach to spirituality and personal development offered in a group setting. Learn more about meditation, including various meditation and breathing exercises as well as tools to deepen your meditation and develop regularity in your practice.
The group classes are a catalyst for deepening your meditation experience. Meditation awakens us to our inner Essence or Peace, calms mental activity and provides us with greater focus. It results in an overall feeling of well-being and peace of mind. During the classes, we will practice breathing exercises which are an important component of the practice of meditation.
Breathing exercises affect the central nervous system, furthering the transformation to a more positive mind-frame enabling us to reach a subtler and deeper state of consciousness. In addition, we use Sanskrit chanting as a method to relax and to create a calm, meditative atmosphere.
Chanting has grown in popularity since it allows us to get in touch with ourselves, as the sounds are soothing and lead to meditation. The integral framework helps us to assimilate our meditation experience and encourages self-reflection regarding all aspects of our lives. This facilitates a holistic personal growth and development path. Participants are encouraged to engage in dialogue and to share their own innate wisdom with the group.
Cost:
$150.00 per person for the 10 week course. Pre-registration required. Drop-ins are welcome for $20.00 per person.
Posted by

PranaShanti Yoga Centre
at 8:00 AM