Welcome to PranaShanti Yoga Centre
Monday, January 21, 2013
Mindfulness Based Stress Reduction Course
Begins

Tuesday, Janaury 22nd
Are you ready to face the full catastrophe of your life?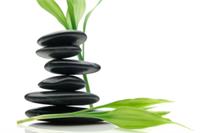 This 8-week mindfulness based stress reduction (MBSR) course is based on the curriculum developed by Kim's teachers, Dr. Jon Kabat-Zinn, and Dr. Saki Santorelli of the University of Massachussetts Center for Mindfulness in Medicine, Healthcare and Society.
MBSR teaches beneficial mindfulness practices from several Buddhist traditions in a non-sectarian, compassionate manner. It is a wonderful way to initiate a meditation practice, or to reinforce a longstanding practice. Excellent scientific research has supported the many physical, emotional, and psychological benefits of the mindfulness practices taught in MBSR to those facing the myriad accumulated stresses of living.
In this course participants will benefit from Dr. Sogge's capacity to create a safe, warm environment in which to playfully explore the fundamentals of mindfulness meditation as an approach to healing and stress reduction.
A half-day silent practice retreat is included after session four, on Saturday, February 23rd, from 8:00 am to 12:00 pm. A course workbook and practice CDs are included in course cost.
Cost
: $595.00 per person. Fee includes: 8 weekly classes, half-day silent retreat, course workbook and practice CDs.
Receipts may be available for reimbursement from extended health plans, with a referral from a physician.
About Dr. Sogge
:

Dr. Kimberly Sogge, C. Psych is a registered psychologist in private practice in Ottawa specializing in third wave mindfulness-based interventions for mind-body problems. Dr. Sogge is a former faculty member at Texas A&M College of Medicine, former Chief of Psychology at the Royal Ottawa Healthcare Group and currently supervises doctoral students at the University of Ottawa's Centre for Psychological Services. Dr. Sogge has taught MBSR at UT Austin, Alberta Children's Hospital, at an art school and at ROHCG. She leads mindfulness programs for professionals, artists, athletes and colleagues. She lives in the Gatineau hills with her partner, children and their two cats Velcro and Black Magic.
Posted by

PranaShanti Yoga Centre
at 12:17 PM