Welcome to PranaShanti Yoga Centre
Wednesday, February 06, 2013
2 Hour Master Yin Yoga

Class
Saturday, February 9th,
2013
Open Deeply and Look Inside: A Yin Yoga Sequence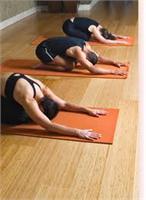 Yin Yoga is the practice of surrender; the surrender of muscles to allow a stretch to sink deep into the knotted ligaments binding hips and spine; the surrender of the breath's restrictions and holding patterns; the surrender of the mind and heart to allow the inner observer to naturally arise.
In the Third Eye, images are projected: fantasies, dreams and visions. As we affect different areas of the physical and subtle bodies with the breath and postures, a correlating shift happens in the projections behind the eyebrow center. Open deeply and look inside.
Cost: $30.00 per person.
Posted by

PranaShanti Yoga Centre
at 8:07 AM