Welcome to PranaShanti Yoga Centre
Monday, February 18, 2013
Vinyasa Zumba & Yin!
Friday, February 22nd
7:30 pm - 9:00 pm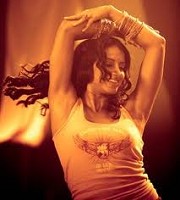 Three incredible forms of movement blended into one great class. Join Maria Figueroa for this unique, energetic and joyful blend of Vinyasa flow, Zumba dance and Yin postures set to a consciously selected blend of music.
This dynamic class will get you 'move'n and shake'n'. Connect with feelings of joy and happiness as you integrate your physical body with your energetic body/chakras. Embrace
Body, Mind, Spirit and Friends
, as you share in this movement experience.
The word '
Vinyasa
' means breath-synchronized movement. This form of yoga covers a wide range of yoga styles often referred to as Vinyasa Flow or just Flow because the movement creates a smooth dance-like sequence. This breathing technique involves the linking of each body movement to an inhale or exhale.
Zumba
is a fun and effective way to lose weight and tone up. It's a cardio workout based on a mix of Latin American and international dances that will keep you smiling while you sweat!
Yin Yoga
is a relaxed practice of postures held several minutes at a time. It is designed to gently stretch and rehabilitate the connective tissues that form our joints. This practice helps open the hips and lower back, complementing the more muscular (yang) styles of Yoga.
Cost: $15.00 per person Drop In Fee or use your PranaShanti Class Card.
Posted by

PranaShanti Yoga Centre
at 11:54 AM