Welcome to PranaShanti Yoga Centre
Monday, March 18, 2013
FREE Intro Talk
The 21 Stages of Meditation - A Journey To The Self
with

Gurucharan Singh Khalsa
Friday, March 22
7:30 pm - 8:30 pm
Welcome to The 21 Stages of Meditation!
This course is for anyone who wants to enhance the joy of their meditation experience.
Meditators, students and teachers of all levels of experince and from all traditions are invited!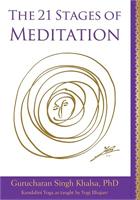 You'll clear your mind, sharpen your consciousness and strengthen your nervous system. Whether Level 1, Level 2, teacher, student, relative or friend – all may participate.
This evening is an opportunity to meet Dr. Gurucharan Singh and learn about The 21 Stages of Meditation Course which begins the next day on Saturday, March 23rd.
Bring your questions! Learn more about how the 21 Stages of Meditation is a Journey To The Self along the meditative path to realization.

Meditation is both a skill and an experience. It has stages, just as a flower grows from seed to sprout to leaves to bloom. Gurucharan Singh was guided through the stages of meditation at the feet of Yogi Bhajan. Now, let Gurucharan guide you through 'The 21 Stages of Meditation' as part of the final training – Level 3 – in Kundalini Yoga as taught by Yogi Bhajan®.

'The Stages of Meditation' are grouped into three 'journeys'. They are: Experience & Crystallize the Self, Express and Distill the Self and Transcend and Sublimate the Self. Each journey lasts one weekend. Each weekend takes you through seven stages of deep meditation. Each stage systematically confronts your mind's patterns and limitations, awakens a part of you and develops new skills to clear your way towards realization.

This course is for anyone and everyone who wants to deepen the joy of their meditation experience. It is a requirement for Kundalini Yoga Teacher Training Level 3.

A message from Gurucharan Singh:

"I spent over 35 years with Yogi Bhajan, the Master of Kundalini Yoga, from his immigration to the USA in 1969 until his passing in 2004. I learned about the three journeys, the stages and the meditations to complete the journeys directly from him and have shared that along with my own experiences from practice and teaching them. The stages provide an indispensable map for deepening and understanding meditation."

• Journey 1: Crystallize the Self — March 23rd and 24th, 2013
• Journey 2: Express the Self — April 20th and 21st, 2013
• Journey 3: Transcend the Self — May 4th and 5th, 2013

Hours: 9:30 AM to 6:00 PM each day for 48 hours of classroom time over 6 days.

Tuition: $385.00 + HST per weekend or sign up for all 3 weekends for $1,050.00 +HST, a savings of $105.00.

The book "The 21 Stages of Meditation" by Dr. Gurucharan Singh Khalsa is included in the 3 weekend course fee and is also available for purchase in the PranaShanti Boutique.

The 21 Stages of Meditation contributes to Level Three Certification within The Aquarian Teacher™ Training Program and qualifies for RYT hours with Yoga Alliance and IKYTA continuing Education Credits.
Posted by

PranaShanti Yoga Centre
at 8:32 AM