Welcome to PranaShanti Yoga Centre
Monday, March 18, 2013
Spinal Tap Posture Workshop
Sunday, March 24th
1:30 pm - 4:30 pm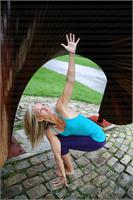 There is a saying in yoga circles that you are only as young as your spine.
Through movement, you'll discover the natural axes of your spine, how to move the spine, how different spinal movements can fire you up or calm you down.
You'll also learn how to keep your spine as young as possible (hint: it involves movement and proper alignment.)
Cost: $55.00 per person
Spinal Tap (3 hours) - March 24th
In the Fold (2 hours) - April 21st
Putting it all Together (2 hours) - May 12th
Complimentary fresh fruit served towards the end of the workshop.
Posted by

PranaShanti Yoga Centre
at 8:34 AM